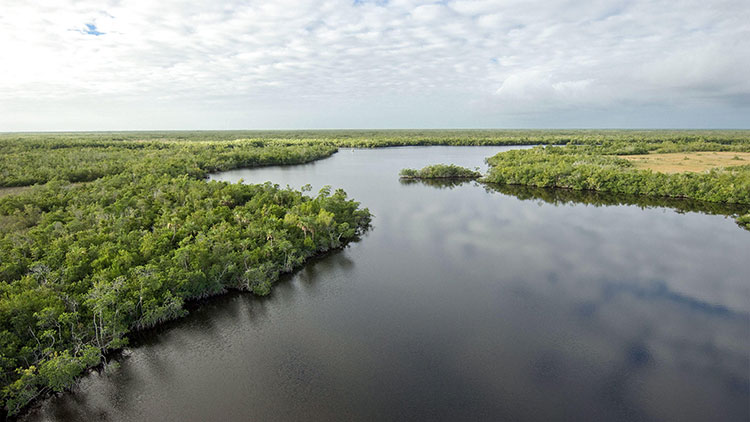 Florida GOP gubernatorial candidate Ron DeSantis toured a section of the Everglades by airboat with a famed alligator wrestler Wednesday, seeking to broaden his voter appeal while vowing to combat the state's top environmental woes.
Former state wildlife commissioner, businessman and famed alligator wrestler "Alligator Ron" Bergeron served as the candidate's guide. The two skimmed across alligator-infested waters in a black airboat, spraying water and chopped-up plant matter as they sped through the sawgrass.
DeSantis, fresh off the recent announcement of his environment platform, told reporters, "Republicans want their leader to take these issues seriously." He described himself as a "Teddy Roosevelt conservationist."
Bergeron, clad in a camouflage shirt and matching boots, told reporters he has been advising DeSantis on an array of issues affecting the Everglades. He added he's proud to serve the Republican hopeful, adding "Ron DeSantis has been in my office so many times that I need a traffic light to get him in and out."
DeSantis, who has President Donald Trump's backing, is facing Democratic opponent and Tallahassee Mayor Andrew Gillum in the fall election. The winner will succeed Gov. Rick Scott, who is now running for the Senate.
DeSantis' environmental announcement signaled his intent to support construction of a reservoir south of Lake Okeechobee, a polluted mass of water in the heart of the South Florida peninsula that drains into the Everglades. The reservoir, he said, would provide a natural filter to unhealthy nutrients and pollutants that harm the vast "River of Grass."
The plan, an apparent move to increase DeSantis' appeal beyond hardline conservatives, calls for assembling a team of researchers to study the causes of a red tide epidemic that has plagued Florida's Southwest coast.
The naturally occurring toxic algae bloom, which has killed millions of marine creatures, has spread into parts of the Gulf of Mexico, affecting a 150-mile (240-kilometer) stretch of water from the Tampa Bay area to southwest Florida, according to the Florida Fish and Wildlife Commission.
Additionally, DeSantis said he would continue restoration of the Everglades, fund land conservation, combat beach erosion and protect water supplies. DeSantis also said he opposes offshore oil drilling in the state.
DeSantis' campaign has gone on the offensive against Gillum, claiming recently that Democratic candidate "doesn't care about the environment." The DeSantis campaign cited the Democratic nominee's 2005 vote to build a $1.5 billion coal power plant in north Florida, among other past environmental political decisions.
The Gillum campaign had no immediate comment Wednesday on the DeSantis' event.
But the Florida Democratic Party issued a statement calling DeSantis an "ally of big polluters" and a "climate change denier." The party also cited a July 2016 bill in which DeSantis, as a member of Congress, voted to decrease funding to the Environmental Protection Agency and the Land and Water Conservation Fund.
DeSantis recently resigned his House seat to focus on his run for governor.
Gillum has stressed tackling climate change as the top environmental threat facing Florida, emphasizing lowering carbon emissions and pushing for cleaner solutions such as solar energy. The Democrat also has said he would make a priority out of cleaning up the Everglades and dealing with toxic algae blooms. Gillum's campaign website also declares: "We have an obligation to do something now, so we don't leave our children and grandchildren a planet that is damaged and polluted."
In his meeting with reporters, DeSantis said he doesn't want to be labeled as a climate change believer, yet he believes human activity is responsible for the destruction the environment.
"What I do know is that I see the sea rising," he said. "I see the increased flooding in South Florida."
He added, "I think you would be a fool not to consider that an issue we need to address."