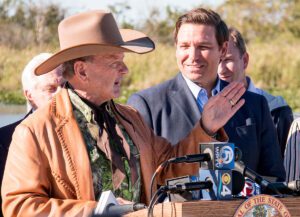 By: Anthony Man
South Florida Sun Sentinel
The Florida Commission on Ethics gave its blessing Friday morning to Ron Bergeron serving on the powerful board that governs South Florida water supplies and restoration of the Everglades.
Hours later, Gov. Ron DeSantis appointed Bergeron to the board of the South Florida Water Management District.
"He has devoted his life to the protection and restoration of our Everglades and water resources. I look forward to his leadership and the contributions he will bring to the district," DeSantis said in a statement.
The Ethics Commission, meeting in Tallahassee, voted 8-0 to adopt an advisory opinion clearing the way for Bergeron's appointment after its general counsel Chris Anderson gave an overview of a detailed staff recommendation spelling out Bergeron's business activities and how he can avoid ethical problems while serving.
Anderson said Bergeron would "have to refrain from voting on any matter or participating in any matter that would affect him and his companies."
Bergeron's attorney, Ed Pozzuoli, chief executive of the Fort Lauderdale-based Tripp Scott law firm, was present but wasn't questioned. "I stand here before you open-handed and fully transparent," Pozzuoli told commissioners.
Anderson referred to Bergeron on Friday morning as someone who "may very well become a member" of the agency's board. DeSantis had said in January he intended to appoint Bergeron to the water management district board, but delayed an official move so his interests could be examined for potential conflicts.
Bergeron, 75, who lives on a ranch in western Broward, is an outspoken champion of the Everglades and a former member of the Florida Fish and Wildlife Conservation Commission.
He is also CEO of the Bergeron Family of Companies, which includes highway construction, rock pits and quarries, agriculture, real estate development, solid waste management and disaster recovery services.
Some of Bergeron's companies have business with the water management district, but the commission said that didn't mean there are legally prohibited ethical conflicts.
Contracts between Bergeron companies and the water management district entered into before his appointment to the board are not a prohibited conflict of interest, the commission order said.
"Basically, the grandfathered contracts are not a problem," Anderson said.
But contracts after Bergeron's appointment would present a conflict — unless there is sealed competitive bidding, the contract is awarded to the lowest qualified bidder and avoids any kind of involvement in decisions on the matters.
"It has to be true sealed competitive bidding," Anderson said — not arrangements such as "requests for proposals" that he said some people think of as bidding.
The commission also OK'd a potential land acquisition — with conditions.
Bergeron, via a letter to the commission staff from Pozzuoli, said he is a partner in an entity that owns a parcel of land the district is considering for part of the restoration of Biscayne Bay.
The commission said the water management district could buy or lease the land if agency's staff determines it is uniquely required for restoration of the bay and Bergeron is not involved in his role as a board member.
"Key to the sole source exemption is that there be an objective terminations by the agency staff that this is the property we need for the project and that there be no involvement with the [board] member that's connected to the private entity that has the realty," Anderson said.
The Ethics Commission reviews complaints and issues legally binding advisory opinions, which is what it did in the Bergeron case. Its members are appointed by the governor, Senate president and House speaker, and by law include Republicans and Democrats.
In an interview last month, Bergeron said he wouldn't tarnish his reputation by doing anything unethical as a member of the water management district board.
"The most important thing I've got is my reputation," Bergeron said. "It took me 55 years to have the reputation, and that's more important than all my success. I just look forward to making a difference in something I know about."
DeSantis made the environment a major issue his campaign for governor last year. Shortly after taking office on Jan. 8, DeSantis he started remaking the water district's board. He pushed previous governing board members to quit, and appointed an entirely new board.
Bergeron who is widely known as "Alligator Ron" because he's wrestled alligators, advised DeSantis on Everglades water flow and restoration before last year's election. Bergeron also took DeSantis on an election season airboat tour of the Everglades in western Broward County.
The appointment is subject to confirmation by the Florida Senate.
"Ronnie is unique because this guy is, he bleeds, Everglades. This is his life, and his passion is very clear," the governor said last month. "Ronnie is somebody who would clearly understand the Everglades and it's a passion of his. I just think the board would benefit from having his leadership on there."