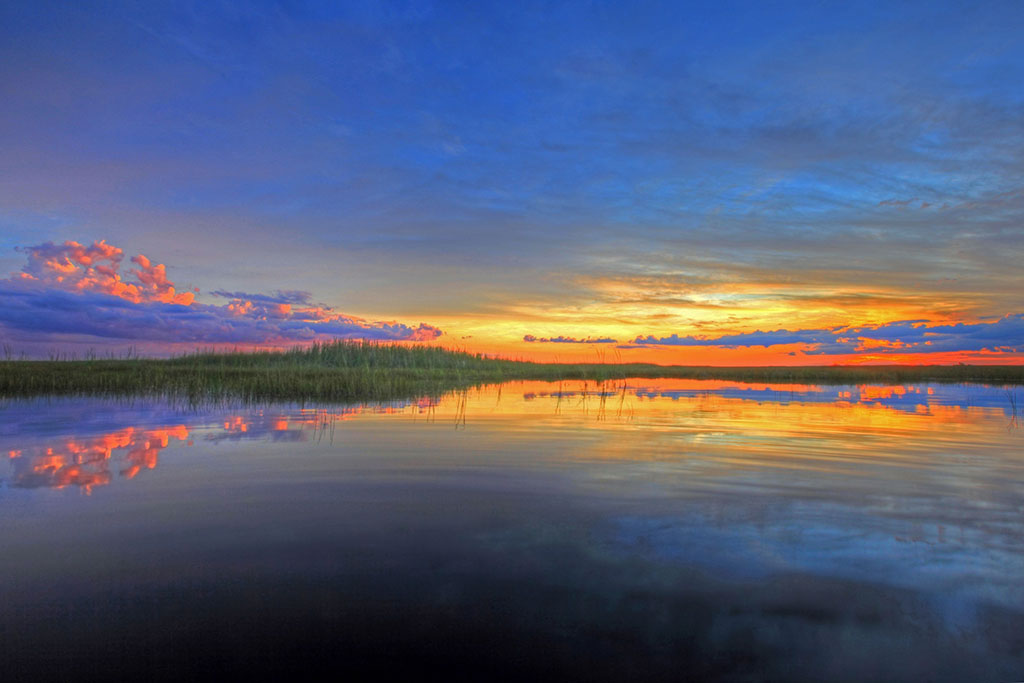 Emergency pumping to ease Everglades flooding could end up worsening pollution in Lake Okeechobee.
At the start of the summer rainy season, western Broward and Miami-Dade counties are already filling up with too much water too fast.
That has triggered extra pumping to save swamped wildlife and to also head off future risks for western communities.
The emergency pumping is moving water north through Palm Beach County and into Lake Okeechobee — the opposite direction that South Florida's water supply is supposed to flow.
To send more water south — where it once naturally flowed — the state is asking for federal permission to pump water into drier portions of Everglades National Park and then out into Florida Bay.
"It's an emergency in the Everglades," said Ron Bergeron, commissioner for the Florida Fish and Wildlife Conservation Commission. "If we don't pull this trigger, there may be nothing left to save."
Heavy rains this month have boosted water levels about 2 to 3 feet higher than usual in portions of the Everglades that stretch through western Broward and Miami-Dade counties.
To avoid draining more water into western Broward, the state for the first time is pumping water from a reservoir in southwestern Palm Beach County north into Lake Okeechobee.
While that frees up more room in the reservoir, it risks sending fertilizers and other pollutants that wash off South Florida land into the lake, which raises environmental concerns.
When the lake rises, its water gets drained to the east and west — spreading pollution threats to coastal waters. That lake draining can fuel toxic algae blooms that make coastal waterways unsafe for fishing and swimming.
"It's always a concern if they are putting water into the lake that doesn't usually go there," said Mark Perry, of the Florida Oceanographic Society in Stuart. "The lake is vulnerable. … It jumps up pretty quickly."
Rising water in the Everglades threatens to overwhelm the habitat and high ground that deer, panthers, wading birds and other animals need to survive.
Drainage canals that move water east and dump it out to sea are already working at maximum capacity, according to state officials.
Standing in the way of moving more water south are federal restrictions on how much water can enter Everglades National Park this time of year in order to avoid hurting endangered species, such as the Cape Sable Seaside Sparrow, which nests in the potential path of the water.
"The federal government is blocking critical relief … by not allowing two big [flood] gates to be opened," South Florida Water Management District spokesman Randy Smith said. "Everglades National Park is where the water needs to be going."
Federal officials counter that they are only delaying until July 15 use of two of more than a dozen outlets for moving water toward the Everglades.
The endangered birds, unique to the Everglades, still have dozens of nests in the marshes that are in the path of those two floodgates, according to the U.S. Fish and Wildlife Service.
more water in western Broward and Miami-Dade marshes isn't as severe as flooding the territory of the Cape Sable Seaside Sparrow, said Larry Williams, who oversees Florida for the U.S. Fish and Wildlife Service.
"The risk to those sparrows is extinction," Williams said. "There's no recovering from extinction."
The Army Corps of Engineers, which also has to sign off on moving more water south, is working with state and federal officials to review the options, spokesman John Campbell said.
The emergency pumping out of the reservoir and into Lake Okeechobee started Friday and will continue "until the situation improves," Smith said.
Source: Sun-Sentinel
Article: http://www.sun-sentinel.com/local/palm-beach/fl-pn-everglades-flooding-lake-okeechobee-pumping-20170626-story.html