WEST PALM BEACH, Fla. (AP) — Parts of Florida's Everglades are so waterlogged that deer, wading birds and other animals are running out of dry ground.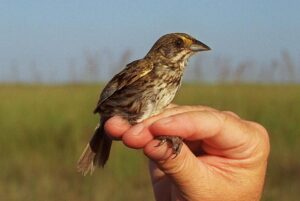 Heavy rains this month have left water levels 2 feet (0.6 meters) higher than normal in the wetlands in western Broward and Miami-Dade counties. The water levels top 11 feet (3.4 meters) in some areas, according to an emergency order from Florida's Department of Environmental Protection.
Wooded "tree islands" usually offer animals dry refuge when water levels in the Everglades are high. But now, "the wildlife has been pushed up on the islands, and now the islands are under water," Ron Bergeron, a Florida Fish and Wildlife Conservation commissioner from Fort Lauderdale, told the Sun Sentinel . "It's as bad as I've ever seen it for this early in the rainy season."
Prolonged flooding threatens both animal and plant species in the fragile Everglades ecosystem, according to a statement from the South Florida Water Management District.
The state agency, which oversees Everglades restoration, was flushing billions of gallons of water east into the Atlantic Ocean. The district also was pumping billions of gallons of water into Lake Okeechobee, despite the risk of fertilizers and other pollutants streaming into the freshwater lake, where water levels are lower than normal.
The pumping could be avoided by finishing Everglades restoration projects that have been in progress since 2000, said Julie Hill-Gabriel of Audubon Florida.
"We go from flood to drought, flood to drought. Normal doesn't exist," Hill-Gabriel said.
Residential communities did not face any immediate flooding threat, but the U.S. Army Corps of Engineers decided to pump water into drier parts of Everglades National Park as a precaution.
The potential stress of rising water levels on levees and other flood-control structures outweighed the risk of swamping the nests an endangered bird, the Cape Sable seaside sparrow, which almost exclusively lives in the park, said U.S. Fish and Wildlife spokesman Ken Warren.