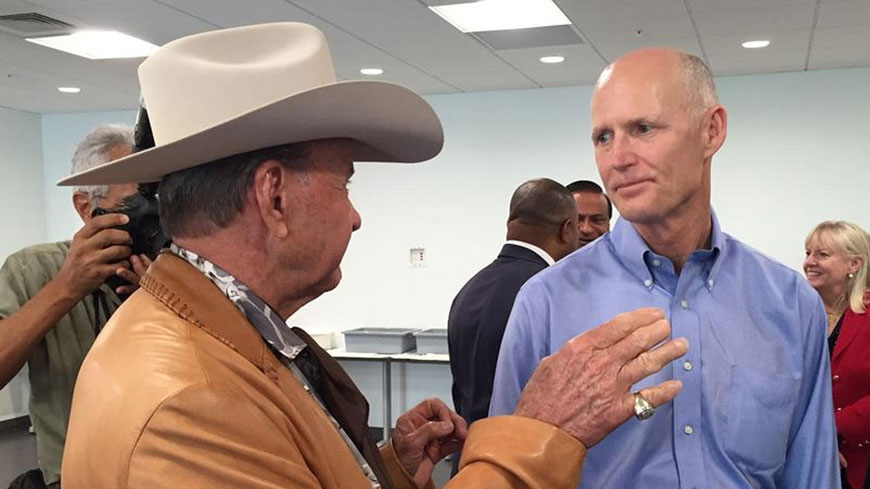 By Anthony Man | Contact Reporter
Sun-Sentinel
on Bergeron, the Broward County developer, entrepreneur and conservationist, is still actively considering running for Florida governor.
The man known as Alligator Ron said in an interview he'd probably announce his plans "somewhere around August." That's a slightly later timetable than he suggested earlier this year when he suggested an announcement would be closer to June.
Bergeron sounded late Wednesday like someone who wants to run.
"I want to be the people's governor, and I want to focus on what people really care about: jobs, economic growth, education, the environment, quality of life issues," he said. "I think businesspeople are very important in government. And I'm very passionate about Florida. My family's been here for eight generations, and I love this state. There is no other motivation for me."
The decision about whether he ultimately runs for the Republican nomination for governor is up to his family, and whether it wants to go through the negatives of the family patriarch running for such an important job, Bergeron said. Everything about a candidate's past is scrutinized by opposition candidates and news media, and every utterance is placed under a microscope.
"I have to look at the impacts to my family when you take such an office. That's the main thing," he said. "I mean, I've got alligator skin myself — I'm Alligator Ron — but that's a big consideration for anybody that runs for public office. And my family's the most important thing to me. We're all talking about it." He's the father of six and is a grandfather and great-grandfather.
Bergeron, 73, has spent decades in and around the Florida Everglades, and has wrestled alligators.
Bergeron said "government is a business, and it's important that we run it like a business." He's displayed business acumen over his life, after leaving home at age 18 with $235 — "and 12 cents, to be exact." He's now CEO of the Bergeron Family of Companies, a group of businesses that includes highway construction, rock pits and quarries, agriculture, real estate development, waste development and disaster recovery services.
"I'm very proud of my reputation and respect, because you've got to earn respect," he said.
Bergeron was appointed to the Florida Fish and Wildlife Conservation Commission by former Gov. Charlie Crist and reappointed by Gov. Rick Scott.
He sees Scott, who had never before held political office before winning the governor's race in 2010, as a role model. "I have to really applaud him for dedicating eight years of his life to making Florida the best state in the United States of America. And all the jobs he's created, economic growth, and he's been very, very considerate to the environment."
When Bergeron said publicly in February he was thinking about running for governor, he said Scott called him. Bergeron described Scott as "very complimentary" in that conversation.
A Scott-headlined event on Wednesday attracted several prominent figures in Broward's business community to Rick Case Kia in Sunrise. Afterward, Scott and Bergeron chatted briefly.
The current Republican governor said he wasn't prepared to endorse anyone seeking the party's 2018 nomination for the job. When he was asked about state Agriculture Commissioner Adam Putnam, who filed paperwork this week to start his campaign, Scott said he's looking for a candidate who shares his focus on jobs.
"I'm sure there's going to be a lot of people. This is a great job. If you like people, you should run for governor. It's a great job. You get to take care of people," Scott said. "My goal is that there will be somebody in the race that really cares about jobs."